Here are the May Single-family Home Sales Statistics for Austin, TX:

The good news is that the Austin-Round Rock metro single-family home sales volume jumped, topping $1 billion in May 2017 for the first time which made a big splash by the local press. This was just a matter of time considering the 7-9% annual home price increases we've experienced the past 6 years or so.
However, everything isn't going as well for all of our single-family home sales categories in the Austin metro. As you can see from the red categories above, we are seeing negative changes in the number of listings (ie-homes for sale) we have, the months of inventory (the number of months it would take to sell all homes currently on the market at the current sales rate), and days on market. All 3 of these are negatives for home sellers--as I've mentioned before, my red and green categories are from the perspective of the home seller since there can be no market to sell anything without a product. And, this is our 3rd month in a row where we have had double-digit increases in listings and inventory and a single-digit increase in days on market when compared to the same month in 2016. The changes to these 3 categories are more easily seen in the graph below that shows how they have changed each year going back to 2008. If you remember, the financial meltdown on Wall Street occurred in September, 2008.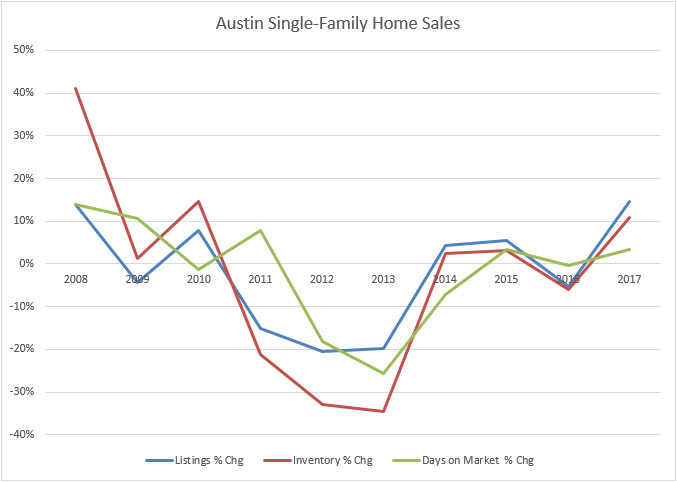 In addition, we have noticed many more e-flyers are being sent by area Realtors than we've seen the past few years. E-flyers are much like a paper flyer but in a digital form and sent via email to Austin metro Realtors (there are over 10,000 now). We use these to inform Realtors (and, of course, their buyers) about a new listing, price reduction or open house to generate more interest in our listings. The fact that we are seeing many more of these flyers shows that Realtors are having to do additional steps--that they haven't had to do the past few years—to get their listings sold. Generally, higher e-flyer use reflects a slower sales market.
So, what does all of this mean? Austin's typical home sales cycle is about 7-8 years from peak-to-peak. Some years the buyers have an advantage because there are more home sellers than home buyers (ie-a buyer's market) and sometimes the home sellers have the advantage because there are more home buyers than sellers (ie-a seller's market). The first time we went into a seller's market—usually defined as less than 6 months of inventory—was in March, 2011 and we have been in one ever since which is just over 6 years. There are many, and I am one, who feel that Austin is experiencing a growth spurt that is atypical of our usual sales cycle since we have truly become an international city this decade. Therefore, we may well exceed our 7-8 year norm with our seller's market extending to 9 or 10 years this time. What we've seen the past few months may be our market simply taking a "breather" from the fast pace we've had the past several years. Or, it could be signs that we are nearing the end of our current seller's market and heading towards one of equilibrium (generally 5-7 months of inventory where neither sellers nor buyers have an advantage). No one can know for sure since the only way to know the direction of the market is historically, AFTER is has turned.
Realtor's use a term with sellers called "pricing to the future market" where we would recommend a home seller price their home a little over what our CMA's average sales price shows in the early stages of a seller's market. Conversely, we recommend pricing a little below the average when a market is turning from a seller's market to a buyer's market. If, in fact, we are beginning to turn from a seller's market to a buyer's market, I would strongly suggest that all home sellers have their home in tip-top shape, well-staged, with great curb appeal, and priced to what may be a slowing market so their home is the next one to sell. Otherwise, a home seller might be forced to reduce their price like 200 homeowners did on 6/15/17 (see Market Watch below). As you can clearly see from the graph above when a market turns, it frequently does so very rapidly…just look at the dramatic drop in our inventory number in only 2 years--from 2010 to 2012--when we fell from 6.7 months (a buyer's market) to 5.3 to 3.6 (down 46% and a seller's market).