Here are the June/2018 MLS single-family statistics for Austin, TX:

June offered a slight improvement over May's numbers with only 1 red category and stronger numbers across most of the other ones. Our 1 red category was an important one: Total number of home sales. While there aren't any alarming areas, June represented a home sales market that seems to be "settling in" to a more moderate pace. No real big swings in any area. No big red flags, etc. You can see how June compares to this year's averages, below, now that we are halfway through 2018 (hard to believe, I know). Again, our activities that drive final sales like pendings and days on market have been down along with actual sales which are down 4% when compared to 2017.

To take this a step further, see the numbers for the last 3 years, below. There are no dark green categories (10%+ positive swing) which reflect the general slowdown, and a few reds scattered throughout. However, home prices continue to move up as they have every year since 2011 when we moved from a buyer's market to a seller's market. You will notice, though, that our price increases have slowly gone down each of the last three years - from an average of 7% in 2016 to 6% in 2017 to 4% this year. I anticipate this trend continuing for the remainder of this year and into 2019.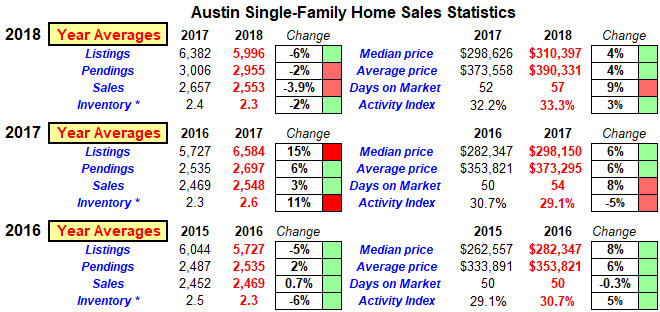 Quote from Mark Sprague, local Austin economist: "In Texas, we're really looking through rose-colored glasses compared to the rest of the nation / world. Texas and particularly Austin are some of the best markets in the nation / world. In the US, only 8 cities have fully recovered from the recession (full employment, real estate values, and GDP prior to the recession). Four of those are in Texas; the others are Seattle, Portland, San Francisco and New York."