Here are the April/2020 MLS single-family statistics for Austin, TX:

OK, April was the big month we were anticipating (or dreading) to see what the real effects on our Austin home sales market would be given that it was the first full month of COVID since the stay at home orders began at the middle/end of March. As you can see above, it was about as bad as we feared it would be with 4 solid red categories (red=10+% negative trend when compared to the same month last year). And, they were all categories that reflect the health of any real estate market like: Pendings (the best "future indicator" of a market since these show buyers confidence to submit offers); Sales (how many actual deals did we have that month that didn't fall apart but got to the closing table); Inventory (how many months to sell all homes currently on the market at the current rate); and Activity Ratio (a formula that compares listings and pendings). However, we still saw home prices increase (this has been a very stubbornly resistant category in Austin that seems to refuse to go down) and our days on market went down by 12%...all positive news.
So, you might be asking "Will this type of activity repeat in Austin in May?" I recently saw the stats below and was quite surprised, but they do confirm what we've seen in person the past couple of weeks...things have already turned back up.


This graph clearly shows that our pending sales (when compared to the same week in 2019) were up until nearly the exact time Austin issued their stay at home order. And, after 6 weeks of a dramatic drop in activity--mostly in April--they bounced back in May...ironically after the Texas governor loosened stay at home orders on May 1st. This is incredibly encouraging news and I'm not really that surprised because the Austin home sales market has proven this time and again going back to the start and end of the Great Recession. Austin was the "last to go to that recession party and was the first to leave" as has been mentioned in this blog in the past. If the May trends do, in fact, continue it will confirm even more so that our real estate market is one that both buyers and sellers can feel confident in.
You can see this in the graph below which compares some top cities regarding how much their new home listings have declined since the start of COVID-19. Austin was clearly at the top of the list by bouncing back to a 10% decline in the shortest time...about a fourth of what 2nd place Atlanta experienced.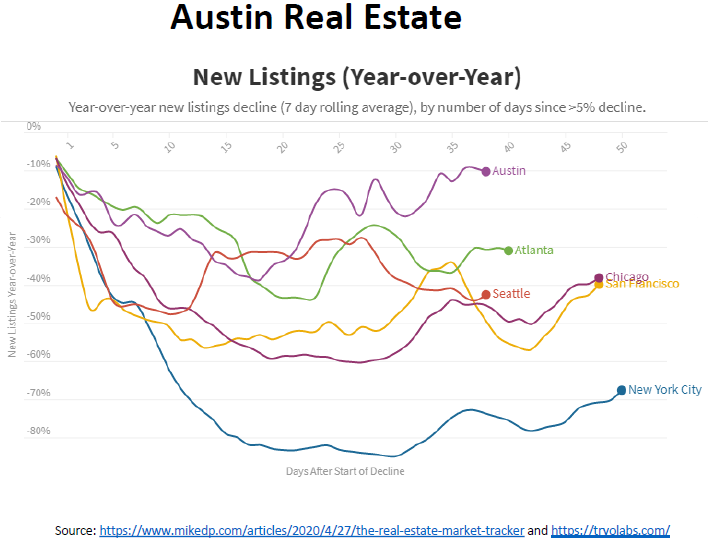 (512) 853-0110 or robert@AustinTxHomeSales.com
If you are unable to open the link/article above, please let me know so I can get it to you another way.

#RealEstate #AustinHomes #RobertKauffmanTeam #MoveToAustin #Relocate #RelocateToAustin #AustinHomeBuyers #AustinHomeSellers #AustinJobs #AustinRealEstate #HomeForSaleAustin