Do you have a low credit score you need to improve? Below are some impressive results from a credit repair company I can recommend you to. This is a list of the largest increases in scores from reports that they pulled over the last 90 days. Its mind blowing how much these scores (and therefore the borrower's lives) can be turned around. I do want to point out that these starting scores are unusually low, which provides the largest opportunity for a huge score increase; their typical client starts at around 580, not in the low 400's. However, it's super cool to see that no matter how grim a situation may look - over time - there is still massive hope. Let me know if you want the company contact info.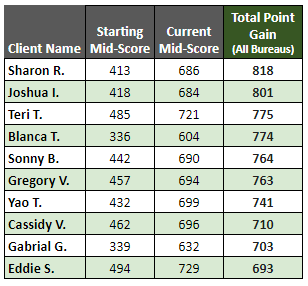 Also, you might want to try Credit Karma...I don't have any affiliation with them, but they have some nice tools to help keep up with your credit. Also, their credit score number is not FICO which is what mortgage lenders use, but will give you a good gauge of where your credit is.
(512) 853-0110 or robert@AustinTxHomeSales.com
If you are unable to open the link/article above, please let me know so I can get it to you another way.

#RealEstate #AustinHomes #RobertKauffmanTeam #MoveToAustin #Relocate #RelocateToAustin #AustinHomeBuyers #AustinHomeSellers #AustinJobs #AustinRealEstate #HomeForSaleAustin