Here are the July/2021 MLS single-family statistics for Austin, TX:
July produced 2 solid red categories in one month for only the 2nd time this year (Feb was the other one), so does this portend the slowdown in our Austin market some have predicted for the past few months? To get a better view of the data and analyze this much-talked about issue more thoroughly, I decided to compile the 1st 7 months of our Austin home sales figures into one chart. After all, even though Austin began seeing the "Covid-19 effect" on our local home sales about a year ago, it really kicked into high gear in January/2021. That chart is below:
Reviewing this chart makes it very clear that nothing is, well, very clear to answer the slowdown question. For instance:
At first glance, it is obvious from just looking at the Pendings and Sales that we are having a slowdown in Austin home sales, right? Not so fast..we've also averaged a 65% decrease in the number of homes for sale (Listings) and a resulting 66% decrease in the months of inventory this year. Inventory factors in the # of sales compared to the # of listings and represents the number of months it would take to sell all homes currently on the market at the current sales pace. Therefore, we had fewer homes (2,906 this July and 4,385 in July/2020 - a decrease of 1,479 homes) so nearly 1,500 buyers were simply unable to buy a home vs. not wanting to buy a home.

Both our average and median home price increases remained high in July at +33% and +37% respectively which nearly matches our YTD averages of +34% and +33%. If our market is slowing down, you would think we would see a more pronounced drop off in our price increases each month.

Likewise, our Days on Market (DOM) continues to drop in July and has actually accelerated the past 3 months to drop by over 70% each month when compared to 2020. In a slowing market, DOM traditionally begins to move up each month.

To me, the best indicators in this chart are what I've mentioned to you several times over the past few months...the number of our listings each month, our months of inventory and our Activity Index...all three have shown downward trends the past few months.

The number of listings each month (when compared to 2020) have gone from an average drop of -75% during Jan-May to -39% the past 2 months;

This has led to a similar drop in our inventory from -79% the 1st 5 months of 2021 to -36% the past 2 months;

Our Activity Ratio (Pendings/Listings + Pendings) has shown the biggest drop over the past 3-4 months moving from an average 91% increase the 1st 5 months to only 12% increase the past 2 months.
In summary, we continue to get some mixed signals about where our Austin home sales market is heading, but there are more now that signal we just might be at the peak of this crazy, historic home-buyer frenzy we've seen the past year and especially in 2021. As before, I still recommend you keep your eye on the Inventory category as the single-best indicator of what is coming. The .80 months of inventory in July is the 1st month this year we've exceeded ½ a month of inventory. We need to reach something in the 1.5-2.5 range to reduce some of the frenzy and--while still being in a very strong market with increasing prices--it will give home buyers a fighting chance like they had just before Covid-19.
To see what our national market is doing, look at the chart below. This buyer-frenzy isn't just an Austin phenomenon, it has been occurring nationwide since Covid, too. Austin began our bidding wars a little sooner than the rest of the nation soon after Elon Musk announced his new Tesla plant in July/2020. Our Austin graph would be extended to start in Sep/Oct and I believe extended over the past few months to have our peak around June vs. April. Just like the Great Recession when Austin was the "last to the recession party" we were also the 1st to leave the party due to our very strong economy and desire for people to relocate here (now at 180/day vs 150/day previously).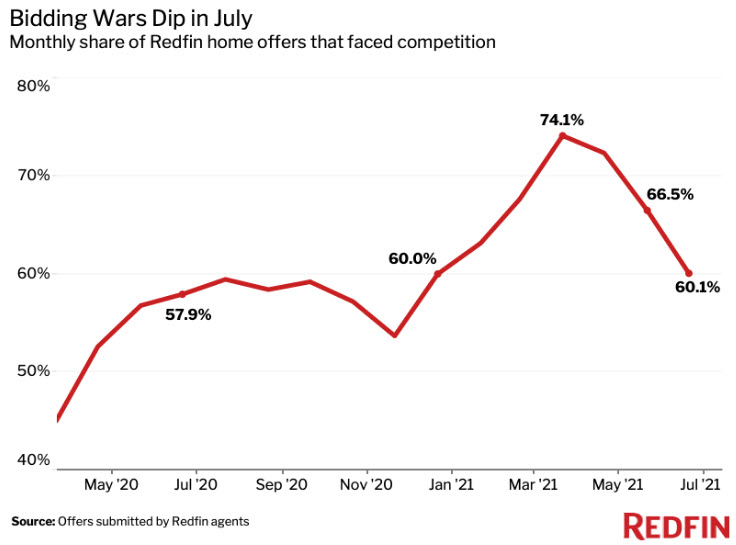 (512) 853-0110 or robert@AustinTxHomeSales.com
If you are unable to open the link/article above, please let me know so I can get it to you another way.

#RealEstate #AustinHomes #AustinHomeBuyers #AustinHomeSellers #AustinRealEstate #HomeForSaleAustin #RealEstateMarket #AustinHomeSalesMarketUpdate