Over the past few months I've driven home the point about watching the Austin inventory number above all other stats for signs that our market is moving out of the insanely low, record-setting level we've been in for nearly a year now. Inventory is defined as the number of months it would take to sell all homes currently for sale at the current sales pace assuming no other homes are added for sale. The chart on the top, below, shows that we've moved from a crazy-low .40 months to 1 month of inventory this year. To put that in perspective, we sold ALL homes for sale (2,995 in Aug) in 30 days and sold the 962 we had in January in only 12 days! Compare that to the 58 day average the Austin metro has had from 2008 thru Aug/2021. Six months of inventory is considered a balanced market where neither the sellers nor the buyers have an advantage, so you can clearly see just how strong our seller's market has been.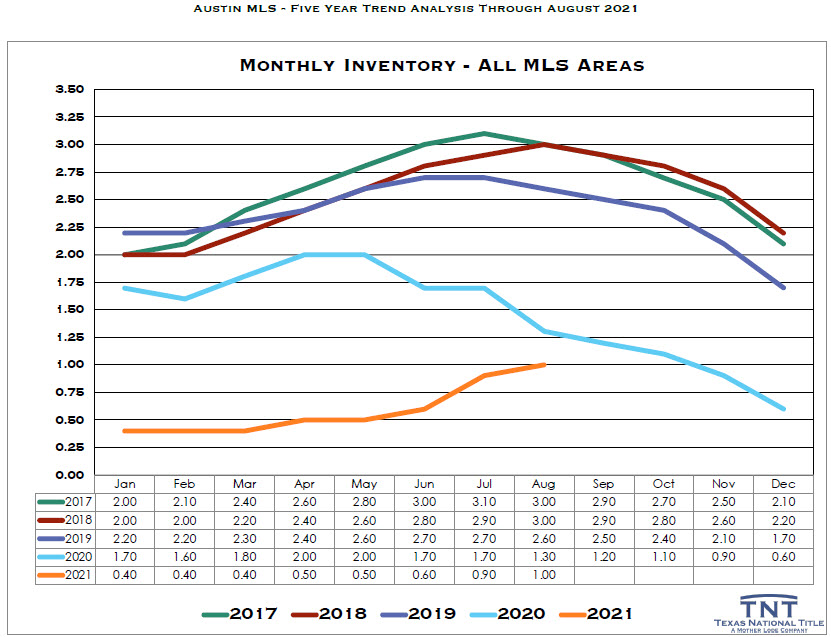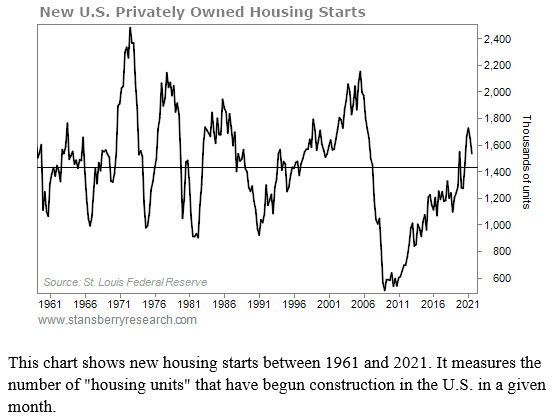 The chart above shows the amount of new housing starts in the US going back to 1961. After the housing crisis, homebuilders practically walked away from the game with homebuilding rates falling to 50-year lows. Even with the steady increase since we emerged from the Great Recession, we are still behind at only 1.6M homes now which is much lower than any of the 4 previous peaks shown. Until we get caught up on our inventory with a combination of more new homes being built and current homeowners selling their homes, our strong seller's market will remain.

Under a typical (ie-"normal") year, 42% of homes sold in the Austin metro area sell during the 50% of the year from October to March. A common myth is that you have to sell your home during the spring/summer months to have the best chance, but the percentages above prove that wrong. Homes that are in great condition, staged properly, and priced right sell year-round in our area. This year has been anything but "normal" due to the effects of Covid-19, so I fully expect this % to be much higher than our typical real estate cycle which may remain strong through the end of this year.
If you are interested in selling your home, see just some of the steps we take to get homes sold quickly and for top dollar: Marketing Plan to Sell Your Home. Call/text us at 512-853-0110 or email us at robert@AustinTxHomeSales.com to get your free, no-obligation market analysis (CMA) and to see how much you can net from your home sale.
#RealEstate #AustinHomes #MoveToAustin #Relocate #RelocateToAustin #AustinHomeBuyers #AustinHomeSellers #AustinJobs #AustinRealEstate #HomeForSaleAustin #NewHomes #RealEstateMarket #AustinHomeInventory